Who would not be familiar with the famous brand of cars, "Mercedes Benz"; the German brand is responsible for manufacturing high end luxury automobiles which are not only famous for their speed but also for their elegant designs and comfortable drive. Over centuries the company has been successful to win reputation for its durable and quality vehicles. Mercedes-Benz is responsible for manufacturing legendary racing car like SSK and world's 1st diesel car 260D. No matter how old your Mercedes car will grow it will never squeak or rattle, the reason is that each car is welded in more than 10,000 places.
You might know a lot about the Mercedes cars but have you ever wondered how this brand name came into existence? To find that out we will have to look into the history of this luxury brand.
Back in 1880s, high-speed engine and automobiles were considered a niche. The foundation of this need was led by two pioneers Gottlieb Daimler and Carl Benz independently of each other. Both took financial help from their business partners and investors to develop their private enterprises in Mannheim. In October 1883, Carl Benz named his enterprise under his own name Benz & Cie. whereas; Gottlieb Daimler initially named his firm Daimler-Motoren-Gesellchaft also known as DMG, in November 1890.
Both the companies then searched for a suitable trademark so that their products could gain recognition and publicity. In the beginning both the owners used their names as a trademark "Daimler" and "Benz" which helped to guarantee the quality of the products. Benz used a cod wheel symbol in the beginning to symbolize his engineering achievements at Mannheim. Later in the year 1903, it was changed to laurel wreath surrounding the name Benz. As for Daimler's the new century brought a revolutionary developments to the brand name.
In October 1897, a businessman from Austria by the name of Emil Jellinek traveled from Nice, France to buy a car from DMG in Cannstatt, Germany. The first car that was delivered had six-hp two-cylinder engine and was belt driven. The car had a top speed of 24 km/h which was too slow for Jellinek so he placed an order for two more cars and demanded a speed of 40 km/h; these cars were delivered to him in September 1898. The Daimler Phoenix car at that time had front–mounted eight-hp engines and was the first car of its kind that had four engines.
Back in French Riviera, this sports car made such a big impression that Emil Jellinek decided to enter into a local touring competition known as the "Nice Week". He registered his car after his 9 year old daughter's name "Mercedes", for the competition. Mercedes is a Spanish name for girls meaning "Grace". Emil Jellinek gave this name to his daughter, born in 1889 in Baden.
Initially the name was used for the team or the driver driving the automobile and not for the brand itself. The car was such a big hit that Jellinek realized the business potential for it and placed an order for 36 cars. Further he also secured its franchise and supplied it to several countries as he had strong business relations with aristocrats all over the world.
In April 1900, an agreement took place between Jellinek and DMG regarding the sales of the cars and it was decided that the name Jellinek would be given to the automobiles. In addition to that agreement, a new engine was to be developed by the name of "Daimler-Mercedes". The first "Mercedes" comprised of a 35-hp racing car engine and it was delivered on December 22, 1900 developed by Wilhelm Maybach. The car was unique so it gained a lot of popularity because of its low gravity, lightweight high performance engine, honeycomb radiator and steel frame. It is considered to be, "The first Modern automobile."
During the Nice Week held in March 1901 the car was found to be unbeatable in almost every discipline. The demand rose and Jellinek stretched the production plant to full capacity in Cannstatt. The name "Mercedes" got legally registered on September 26, 1902. After that in June 1903, Emil Jellinek acquired permission to be called Jellinek-Mercedes. Jellinek made a comment that, "this is probably the first time a father has taken his daughter's name."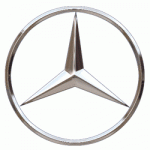 In addition to the name, "Mercedes", the three pointed star also became the trade mark for the car. It is said about the trade mark that Daimler once drew this emblem on a postcard that he sent to his wife, the star pointing into 3 directions symbolizes transportation business growth on land, air and sea. Besides Mercedes, DMG is responsible for introducing world's first motorcycle, taxi, pickup and truck.
The two companies Mercedes and Benz started working together after First World War and the initial activities included advertising on the same posters. In the year 1926 the two companies amalgamated and combined the two trademarks, thus Mercedes-Benz came into existence.
Besides the fact that Karl Benz and Gottlieb Daimler were the two pioneers of automotive industry and the two lived only 60 miles apart in Germany, but still they had never met each other in person.